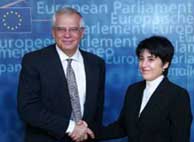 BRUSSELS, Oct 13 (AFP) - 19h35 - Kurdish activist Leyla Zana finally received the European Parliament's Sakharov prize for human rights Wednesday after being released in June from a decade in Turkish detention.
Photo Courtesy of Reuters
Zana was awarded the high-profile accolade in 1995 but had already been in a Turkish jail for a year on charges of collaborating with separatist Kurdish rebels.
The release in June of Zana and three other former Kurdish legislators, who were also in Brussels, was a surprise twist in one of the most politically charged cases in EU-hopeful Turkey.
The four were seen as prisoners of conscience by the EU, and the European Parliament in particular had made them a cause celebre.
Addressing the parliament's foreign affairs committee, Zana praised the Turkish government for pushing through "revolutionary changes" in its bid to win a date to launch EU accession negotiations.
"It's evident that the process engaged with the EU... has contributed to the changes," she said, while adding: "The government must be a lot more resolute."
Zana said a new constitution was "indispensable" for Turkey so that minorities such as the Kurds and non-Muslims can "express themselves freely".
The Kurdish activists' visit to Brussels comes a week after the EU's executive commission recommended that EU nations start membership negotiations with Turkey.
The commission's appraisal will form the basis for a decision to be taken by EU leaders at a mid-December summit. They are expected to give a green light, while attaching strict conditions.